2022.10.21
How can we make peace?
Every year at Eiwa we have a theme for the year. This year, with the invasion of Ukraine on everyone's mind, we chose the topic of peace. More specifically, the theme is making peace. Each of the classrooms at Eiwa has a poster with this topic and it has been the focus of many morning talks in the chapel. Thus it was no surprise that on our most recent English Day, which came a week after International Peace Day on September 21, my talk also concentrated on the idea of Making Peace.

This summer I went home to Nova Scotia, Canada. While there, I spent a few days travelling around the province with my mother, visiting some places that we had never been before. One of the highlights was going to "Thinkers' Lodge," a simple white wooden house in a village near the sea. Despite its unremarkable appearance, it was in fact the setting of a very remarkable event. It is a place where people gathered to 'make peace.'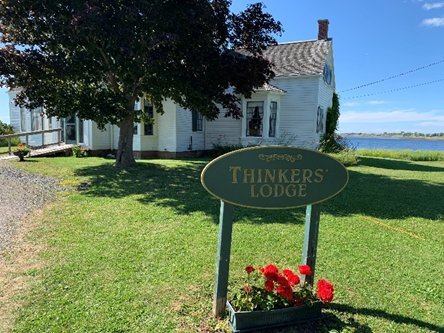 In the 1950s, like today, there was a lot of tension in the world. This was the Cold War. America and Russia were enemies. Each side was making more and more nuclear bombs. Great scientists and thinkers like Bertrand Russell and Albert Einstein realized that nuclear war could never be allowed. So they wrote a letter and sent it to other famous scientists around the world. They agreed to meet and talk about what they could do. Thus, in 1957, great scientists gathered at this house in the village of Pugwash, Nova Scotia. They came from not only "friendly" countries like the U.S. and the U.K., but also ''enemy" countries like Russia and China. Three scientists from Japan were also there, including Yukawa Hideki, the first Japanese to win a Nobel Prize.
These scientists spent the time at Pugwash together – eating, discussing problems and ideas, going for walks, and probably just chatting. They made connections with each other and realized that although they were from different countries, they were all from the same planet. I believe that they broke down some of the walls that were between them. After that, they agreed to meet again and try to work together some more. That was sixty-five years ago. Since then, this group has grown and grown. There are "Pugwash Conference" groups in more than 30 countries around the world, including Russia and the United States. They have met hundreds of times in many places all over the earth. Fifty years after the end of World War Two, in 1995, they were awarded the Nobel Peace Prize for their efforts in keeping the world safe from nuclear war.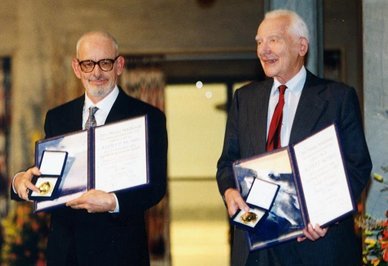 I really believe that making connections between people and breaking down the walls that separate us is key to 'making peace.' Through this talk and others and various activities at Eiwa, I believe our students are also ready to make a positive contribution to peace in this world. "Shalom."