2018.07.12
2018 メイプル便り 14~28
4月1日、メイプルプログラム(カナダ5か月留学)に、高2の生徒10名が出発しました。
カナダの姉妹校セントマーガレットスクールで寮生活やホームステイを楽しみながら、
徹底した英語研修を行う英和女学院の留学プログラムです。
今年も現地から届いたお便りを掲載していきますので、お楽しみに!
出発の日の様子は
こちら
をご覧ください。
★バックナンバー 
2018メイプル便り 1~13

●メイプル便り14
I had a cooking class. In this class, we cooked various dishes ! There were some students from different countries, and they made dishes from their own countries. In today's class, we made Japanese food called "okonomiyaki"!
At first, I explained how to make "okonomiyaki" in English. Then, they asked me more questions that I didn't expect. It was hard to answer them. But luckily, everyone understood.
Next, they were divided into 4 groups and they cooked it. My group was actively helping me and with cooperation, we cooked it.I was glad that they said it was delicious while eating it !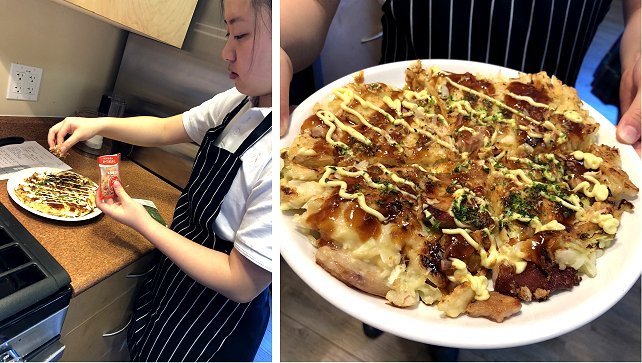 We got used to life in Canada. And most of the MapleGirls are participating in school club activities.Today there was a badminton tournament. Ai, Ayumi and Mio participated in the tournament. Ai won ! Ayumi came number Second ! It was amazing!!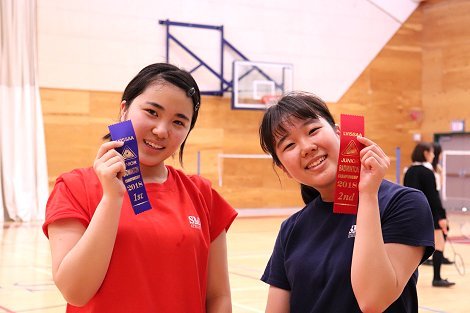 I'm in the CHEER LEADING club. I'll have another tournament next time. I would like to do my best, so I practice often for the tournament.

Yuuka Dozono

●メイプル便り15
今日は学校のactivity に参加しました。今回はschool busでBacon Hill Parkに行きました。
とても大きな公園で、敷地内には無料で入ることのできる動物園があり、クジャク、ヤギ、ウサギなどが沢山いました。一面に花が咲いていたりと、とても綺麗な公園でした。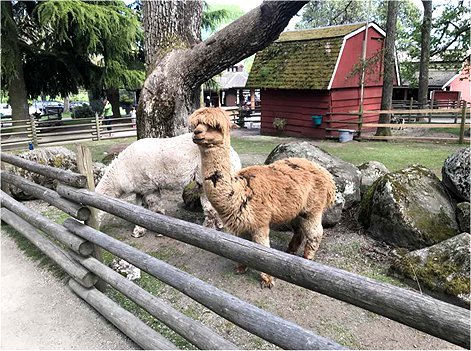 公園の近くには海岸があり、そこに引率の先生が連れって行ってくれました。先生はその場所で起ったカナダの歴史について話してくれました。美しい風景を見たり、動物とたわむれたり、歴史を学べたりと充実した1日を過ごすことができました。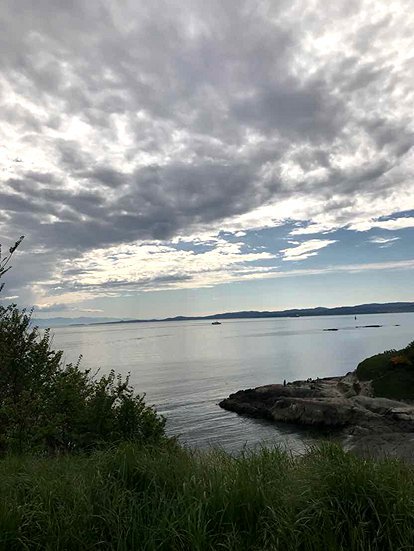 カナダでの生活も1ヶ月が過ぎ、2ヶ月目に突入しています。時間の流れの速さに驚いています。残りの時間をどう過ごすべきかしっかり考え生活したいと思います。頑張ります。
楠山葉月

●メイプル便り16
Today, we thought about" What choice did you make that made a difference to the outcome of the problem? " It was very difficult because we couldn't use a dictionary, and I had no idea what to write at that time. However, I did finish writing an answer to the question. In English class we read a book that was different from before. It was very difficult for me because I didn't know what some words meant. However, my English teacher helped me. I want to read as many English books as possible fluently.
Tomorrow, we are going to join my school concert. We will perform "She's like the swallow".My music teacher is very passionate. Tomorrow another grade will play. The instruments they will use are the sax , clarinet ,flute, etc. All the students can play. I think it is amazing.
This Sunday, the Maple students will meet everyone to go on a school trip to Victoria. However, I'm worried about the weather. Today, the weather was raining, but it is a sunny afternoon. I can't wait to see them!
Shizuna Matsushita

●メイプル便り17
1か月半ぶりの再会!
今日は修学旅行でヴィクトリアに来ている修学旅行生(同学年の高2)に会いに行きました。
みんなで教会に行き、その後はdowntownで自由行動だったので、ご飯を食べたり、いりいろなお店をまわりました。みんなとお別れするときは寂しかったのですが、久しぶりに会えて、素敵な時間を過ごすことができました。残りあと3か月も支えられていることを忘れずに頑張っていきます!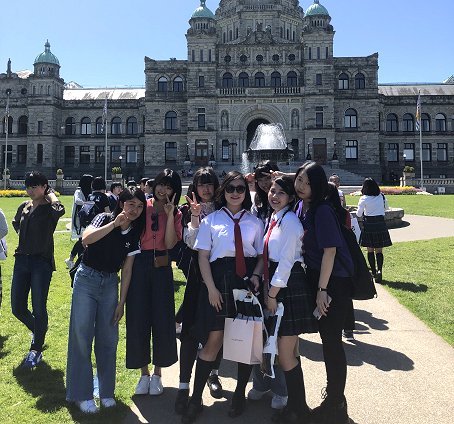 ●メイプル便り18
Last Sunday was Mother's Day, so today all the students living in the dormitory celebrated our house mon.
I am very grateful to my housemom. She tells me all about Victoria and Canada.
Every evening, before I go to bed, I talk about the events of the day. It is a lot of fun, because I can talk in English. My house mom is very kind. I love my housemom.
Thank you for everything.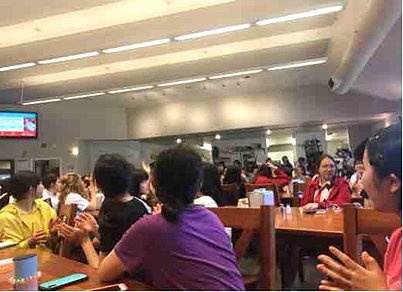 ●メイプル便り19
Four days of consecutive holidays have started from yesterday. Today I went to uptown to buy some snacks, and I had dinner there. After returning to the house, I ate spicy noodles with my friends (A Brazilian girl and a Mexican girl). It was so hot. The Mexican girl gave me Mexican sweets, they tasted sweet and sour. She made hot chocolate for us, it was so good. She came back to our residence for the first time this month. When she went back to Mexico, I couldn't talk with her but now I can talk with her all the time. I would like to use this long weekend to talk to more foreigners and get better at English.
Also, I learned during this consecutive holiday, how to use money. Nobody in Canada manages my money. When buying something, I really need to think about is it necessary. Because I do not want to waste my money. I would like to spend my money more wisely.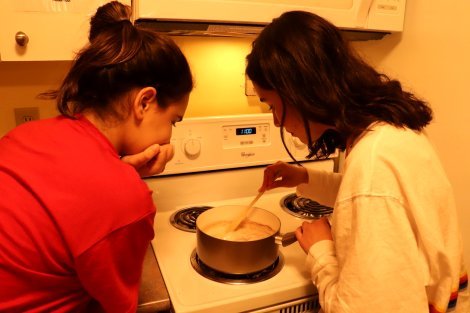 ●メイプル便り20
Today, I participated in the HOMEROOM CHALLENGE for the first time. The student council gave us a theme. This was the challenge. The theme this time was TV shows ! We chose the TV show ' The Office ' and wore smart casual or office wear. We got into character and took pictures.
lt was so nice. I'm looking forward to the next HOMEROOM CHALLENGE.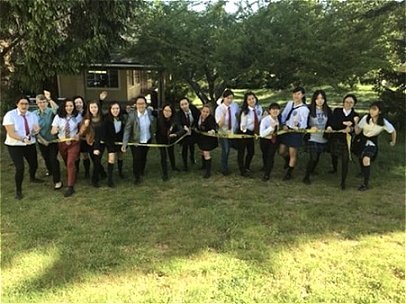 ●メイプル便り21
May 23
・Period 1
・Homeroom
・AM Break
・Period 2 Social Studies
・Period 3 Canadian Cuisine
・Lunch
・Period 4 English
・Period 5 PE
Today I went to an Indian restaurant in home economics class. Spices were so unique that there were foods I hated. There were many kinds of curry. They were very delicious. They showed us the kitchen. I went to an Indian restaurant for the first time, so it was a nice experience.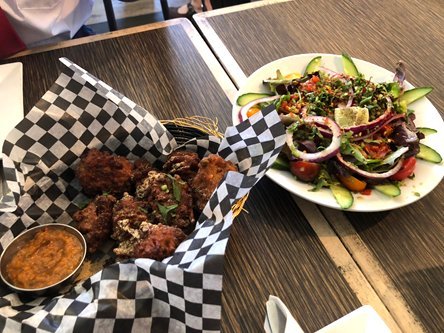 A musical by SMS students was performance tonight. We went to the hall in the school bus.The costumes were very beautiful. And not only that, the tools were very artistic. Everyone was very good at singing and acting. It was we good memories.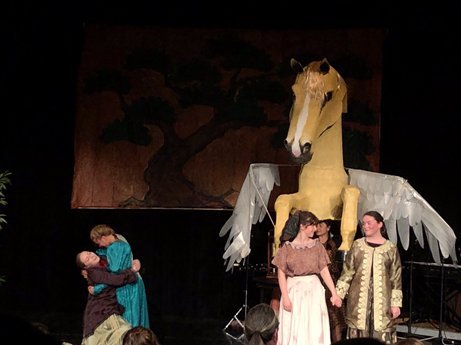 ●メイプル便り22
On the 25th of May, I had the opportunity to learn about science. It was fun because we went out to look for certain kinds of flowers.
Today, on the 27th of May, I had a birthday surprise party with the maple girls for Ayumi but her birthday is on the 28th. The surprise birthday party went well!! She was so surprised so I was very happy today.
We made a birthday card for Ayumi, then we put it on the door. I'm glad that she liked it! And then we went out and blew bubbles. It was a lot fun. I felt like I was a child.
Tomorrow I'm going to go to the Inner Harbor to shoot a sunset in photography class. I'm looking forward to seeing the sunset tomorrow night. We've already photographed a sunrise but it was little bit difficult for me, so I hope that it will go well.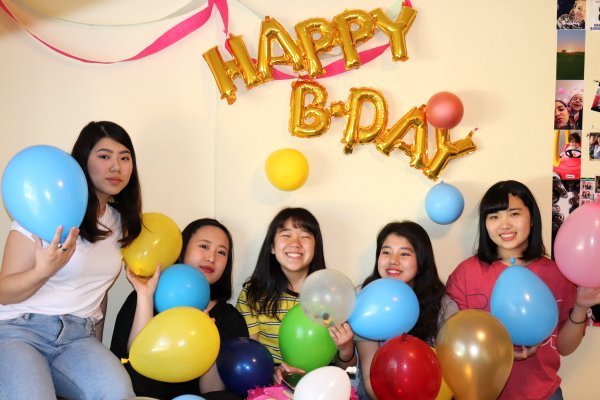 ●メイプル便り23
5月30日
もう少しで5月も終わりです。本当に時間が経つのが早くて驚いています。
今日はEnglishの時間に裁判の文を読んで自分の意見を書く練習をしました。日本語の文でも自分の意見を書くのは苦手で苦労しますが、それを英語の文で書くのはもっと大変です。でもこれも自分の身になると思って頑張りたいです。今やってることが今後の自分の強みになればいいなと思いながらやっています。
明日は5時間目、私たちのHomeRoomだけStarbucksへ行きます。日本では絶対ないことなのでものすごく楽しみです。
寮での生活も残りわずかです。RoommateはGrade12で、もう少しで彼女もこの寮を出て大学へ行ってしまいます。悔いのないように沢山話しておきたいです。残りの寮生活も楽しみます。
楠山葉月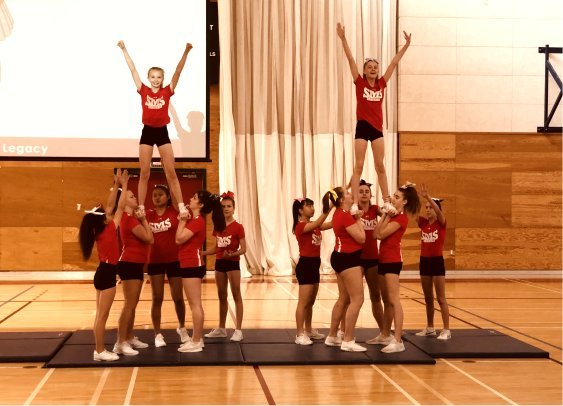 There was the last assembly on 30th May. Assembly is a meeting where all the students and all the teachers participate, it happens twice a month. We sing national anthems and school songs, and award ceremonies will be held. At last assembly my cheer leading club danced in front of everyone.

I came to SMS and entered the cheer leading club. As first I did not understand what was said in English because it was difficult but I was taught until I understood it. Everyone talked with me a lot when they met me so I was very happy. Thanks to them I was looking forward to my club activities. But it was the last time I could dance with them. It was difficult to match our timing or to make the technique successful, but the production was very pleasing because I was able to dance perfectly!

Yuuka Dozono

●メイプル便り25
Have you watched this video?
Today, I watched and discussed this video with other students in my homeroom. This video is about gender,race,disability,religion, and labels. I think this movie is wonderful but in Japan people do not accept this because I think most Japanese people are sensitive about gender, race, and disability. Looking at this video I decided I had to to learn about these topics. I think it's difficult for us to understand cross-cultural issues because there are many kinds of people including immigrants in Canada.
Please take a look the video.
https://www.youtube.com/watch?v=VVBHwVBBB4g
Shurei Matsuno

●メイプル便り26
今日はSports Day でした。日本では体育祭に向けて沢山練習をしますが、こちらの学校では練習が一切ありません。チームは、MALCOLM(青)・CHRISTIAN(黄)・CANMORE(緑)・TURGOT(紫)の4チームです。それぞれ自分の色を身につけて戦いました。自分の色のペイントやリボンを付けたりしていて、とても華やかでした!また、チームは学年対抗ではなく、幼稚園児から高校生までバラバラなので、学年問わず楽しめる競技がほとんどでした。応援の優勝はMALCOLM でした。普段学校で関わらない子達と交流することができ、とても良い機会になりました。私は綱引きをやりました。負けてしまいましたがとても楽しかったです!
6月も後半に差し掛かり、寮での生活も残りわずかになってしまいました。サマースクールに参加しない子や、寮母さんとはもう少しでお別れなので悲しい気持ちもありますが、最後まで有意義に過ごして沢山思い出を作りたいです!    
Ai Asahina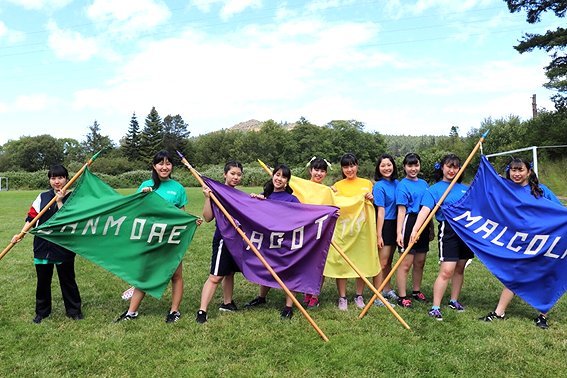 ●メイプル便り27
I had a snack party at lunchtime.
I talked with teachers and students who I don't know. First, I was so shy but l knew talking and comunicating is fun so l spoke about many things. For example, what books and movies do you like? What are those that are given the most influence experiencing now?
The time I spent here was the most influential for me. I wanted to stay longer. I'm sad to say good-bye to my friends. They are a great influence. I'm happy to meet them.
This evening, the athletic awards were held. Al got a trophy . Congrats!! l'm proud of you. Good job.
Rina Ogiso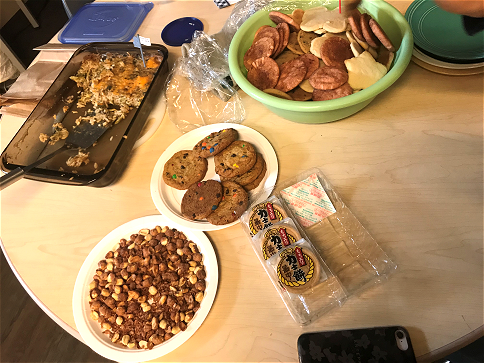 ●メイプル便り28
Today we had our closing dinner. We dressed up and did our make up. It was planned by resident council leaders. The dinner was different from the usual. It was fun and amazing. There was a commendation for each resident. My roommate was commended. I was happy too. After dinner I took pictures with many people from other countries. They were so beautiful.
We will be starting our homestay soon. I started packing for that. The remaining dorm life is only for 11 days. I am so sad. I want to enjoy the rest of my time here!
Ayumi Ibuka